Welcome to the 1st EVER Tuesday Blog Party!We are holding this blog party in honor of
Tuesday Whitt
, a sweet little girl who bravely fought and sadly lost her 8 month battle with stage 4 neuroblastoma in January of this year.
We are doing this fundraiser to hopefully raise awareness about this awful disease and to raise money for the Tuesday Fiona Whitt Foundation, where all proceeds go towards pediatric cancer research.
So, what is this all about?
How can you get involved?
All you have to do is have something you want to auction off... period!
It can be something you made, something you bought, or simply something you would like to give away.
For now, place this button on your blog, alerting your readers to our upcoming event.
Get In On The Fun & Grab a Button!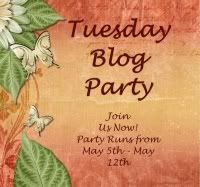 Then, on May 5th, you come here and sign up, letting everyone know you are joining in.
And all anyone will have to do to enter your auction....
Donate $1
HERE
, to the Tuesday Fiona Whitt Foundation.
We have a button you will be able to add to your blog for the duration of the Blog Party that will take your readers directly to the paypal account for donations, so you won't have to be responsible for anything other than keeping track of who comments on your post to win your item and however you want to choose your winner.
You may also notice that we chose a week in May to host our party? That is because this will be the first year that Jess will be celebrating Mother's Day without her little girl and we felt it would be a huge gift to her for everyone to rally around and show their love and support. And, what a great way to honor such a beautiful little girl!Please join in and help us help the Whitts find a cure for pediatric cancer!
SPREAD THE WORD!The Tuesday Blog Party is Coming...